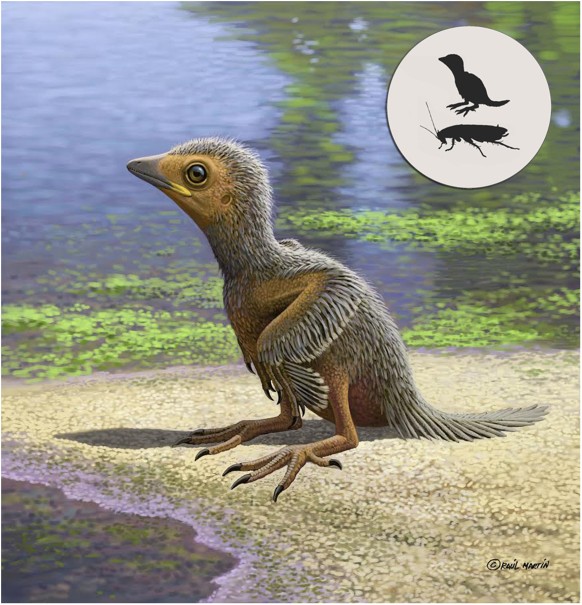 En la publicación de hoy proseguiremos en el hilo de descubrimientos de antiguas especies o de nuevos hallazgos relacionadas con estas, para responder a misterios de los que hasta ahora se poseía muy poca información. Hoy nos vamos a basar en el estudio de unos españoles y argentinos (
Flight reconstruction of two European enantiornithines (Aves, Pygostylia) and the achievement of bounding
flight in Early Cretaceous birds

), en él, relacionan ese vuelo tan característico de muchas de las aves modernas, que intercala vuelo intermitente a través de aleteo (fases de aleteo alternas y fases de deslizamiento con alas extendidas) con el acotado (fases de aleteo y balística con las alas plegadas contra el cuerpo), que hasta ahora se pensaba que fue desarrollado muy posteriormente cuando las aves se empezaron a diversificar, pues había muy poca información de que estas estrategias aereas pudieran haber evolucionado tan tempranamente.
El estudio está basado en la teoria aerodinámica y biomecánica,
su estudio reconstruye los modos de
vuelo de dos pequeñas enantiornitinas del sitio del fósil del Cretácico Inferior de Las Hoyas (España):
Concornis lacustris
y
Eoalulavis hoyasi
.
El estudiodefiende que el pequeño tamaño de las alas con su bajo peso lo que supondría una ventaja hace consistente la idea de que estos pequeños pajaros pudiesen mantener un aleteo constante o acotado, pues estas características permiten disminuir el coste de la inercia sobre el ala; sin embargo ambos pájaros han sido descartados como planeadores facultativos.
Referencias:
Serrano, F.j., Chiappe, L.M., Palmqvist, P. Figueirido, D., Marugán-Lobón, J. & Sanz, J.L. 2018.
Flight reconstruction of two European enantiornithines (Aves, Pygostylia) and the achievement of bounding
flight in Early Cretaceous birds. Paleontology, 61: 359-368.
Enlaces de interés:
Teoria aerodinámica
teoria biomecánica
enantiornitas
pygostylia